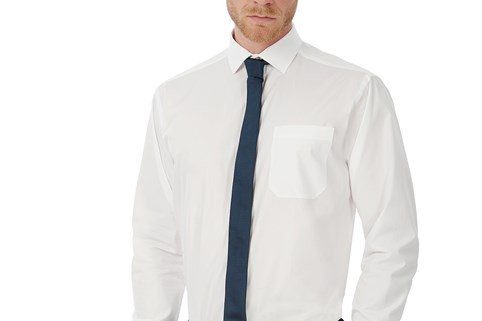 Personalised  Embroidered Office Shirts
Embroidered office shirts are an excellent choice for creating a professional personalised and cohesive look for employees in various industries. Here's a step-by-step guide to getting embroidered office shirts:
Choose Suitable Shirts: Select high-quality office shirts made from materials like cotton, blends, or wrinkle-resistant fabrics. Consider factors such as fit, comfort, and color options. Traditional button-up shirts or polo shirts are common choices for office attire.
Design Your Logo: Prepare your company logo or any specific artwork you want to be embroidered onto the shirts. Ensure that the design is suitable for embroidery, with clear lines and well-defined shapes. Vector files (.ai or .eps) are ideal for high-quality embroidery.
Select Embroidery Placement: Decide where you want the embroidery to be placed on the shirts. Common placements include the left or right chest area, sleeve, or collar. Consider the size and complexity of your design when choosing the placement.
Find an Embroidery Service: Research and find a reputable embroidery service or custom apparel provider that specializes in embroidering office shirts. Look for companies with experience in corporate apparel embroidery and positive customer reviews.
Submit Your Design: Upload your logo or artwork to the embroidery service's platform. Provide specific instructions regarding the size, placement, and color of the embroidery. Many services offer virtual mockups, allowing you to see how the embroidery will look on the shirt before confirming the order.
Choose Thread Colors: Select thread colors that complement the shirt and provide good contrast for visibility. Embroidery services usually offer a variety of thread colors to choose from. Opt for colors that match your company branding and the shirt's color.
Proofing: Before the final production, request a proof of the embroidered design on the shirt. This allows you to see how the embroidery will look and make any necessary adjustments before the actual production begins.
Place Your Order: Once you are satisfied with the proof, confirm your order. Consider ordering a sample shirt first to evaluate the quality before placing a larger order, especially if you are customizing shirts for multiple employees.
Delivery: Provide the necessary shipping details and wait for the delivery of your embroidered office shirts. Check the items upon arrival to ensure they meet your expectations.
By following these steps and working closely with the embroidery service, you can ensure that your employees have professionally embroidered office shirts, reflecting your company's brand identity with sophistication.
Display 15 Products per page